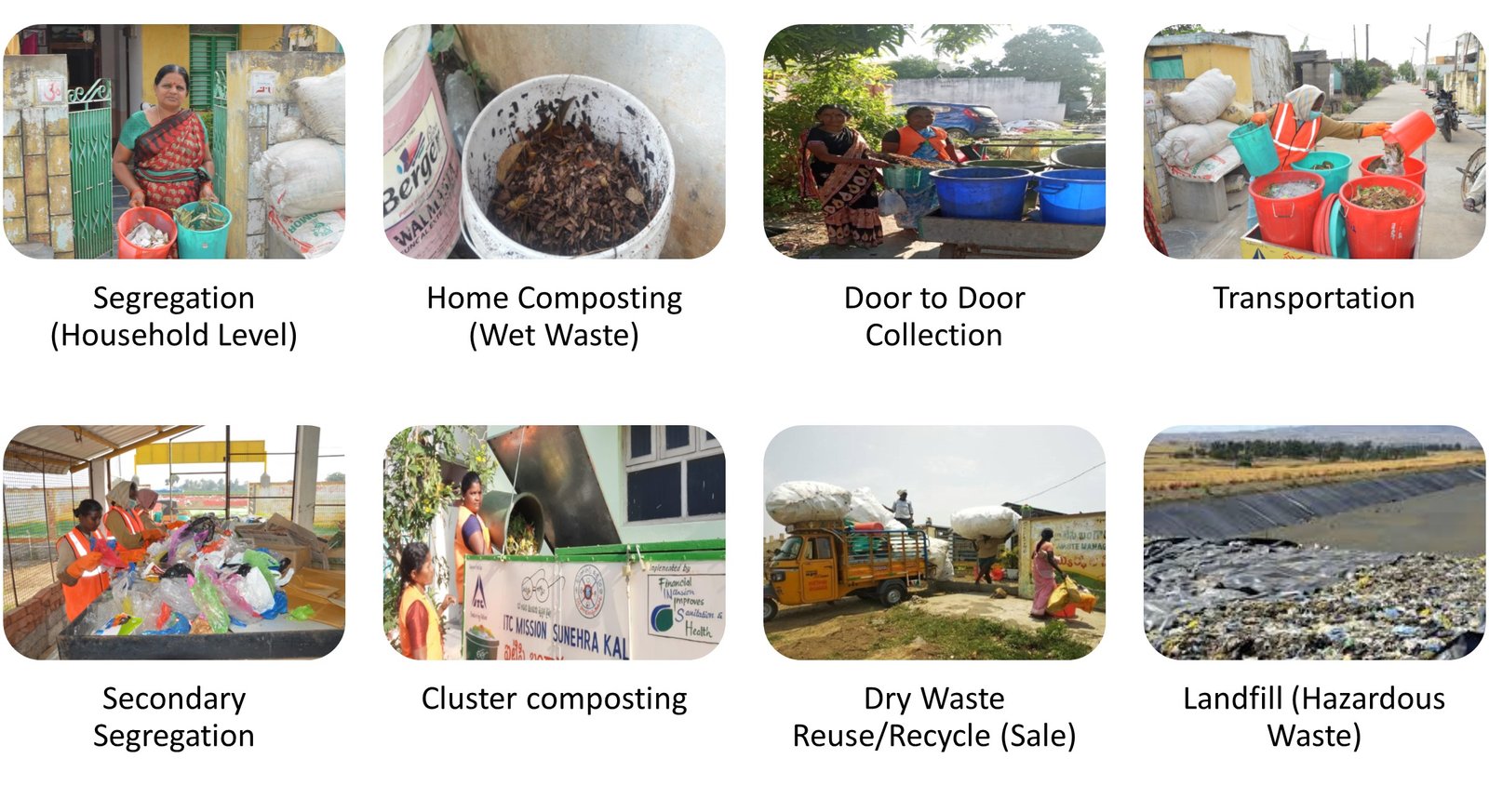 ITC-MSK & FINISH launch DSWM project in 3 sanitation zones of Chirala Urban
ITC Mission Sunehra Kal is supporting the Swachh Bharat Mission (SBM) launched by the government towards scientific solid waste management in multiple towns/cities of the country. In a new initiative, ITC is now extending technical and implementation support to Chirala Municipal Corporation (CMC) in 3 Sanitation Zones of Chirala Urban. FINISH Society with the support/funding of ITC MSK started the Decentralization of Solid Waste Management – DSWM project in Chirala of Bapatla District, Andhra Pradesh. On February 4, 2023, the DSWM project Orientation Programme was conducted for all the Chirala Municipality Staff.
The Chairman of Chirala Municipality, Commissioner, ITC Factory Chirala Staff, Environment Engineer, Ward Sanitation & Environment Secretaries, Ward Planning & Regulation Secretaries, Ward Amenities Secretaries, Ward Volunteers, Sanitation Supervisors, and Finish Society staff were among those who participated in right earnest. An exposure visit was conducted for the CMC Staff of AE, WSES & Supervisors (20 participants) to Guntur to see the USWM Project. They were briefed about SWM Activities, Nutrition Garden, Home Composting, Hub Composting units, and Cluster composting units.
They also attended the Mohalla Committee meeting, interacted with the Sanitary Department and the officials of GMC (Guntur Municipal Corporation), and visited the Dry waste Center.
It may be mentioned that the Chirala Municipal Corporation (CMC) generates a total of 30 Tonnes per day average (TPD) of unsegregated solid waste from 33 elected wards comprising 23,651 households, and the entire waste is dumped in a landfill at Ramapuram SWPC shed without any recycling (Source: Discussion with municipal officials).
A total of 30 Tonnes per day (TPD) of solid waste is generated in all the wards (8.0 Tonnes from residential households and 18.0 Tonnes from commercials, including shops and hospitals, etc.). Out of the total waste generated, around 74% is recyclable waste.
The waste from households is collected by the CMC at the doorstep on daily basis by using push carts and then loaded into the autos/tractors for further transportation to the transit yard. ITC is now planning to extend technical support to the CMC on awareness creation, behavior change, and people participation, to develop a sustainable and scalable program.