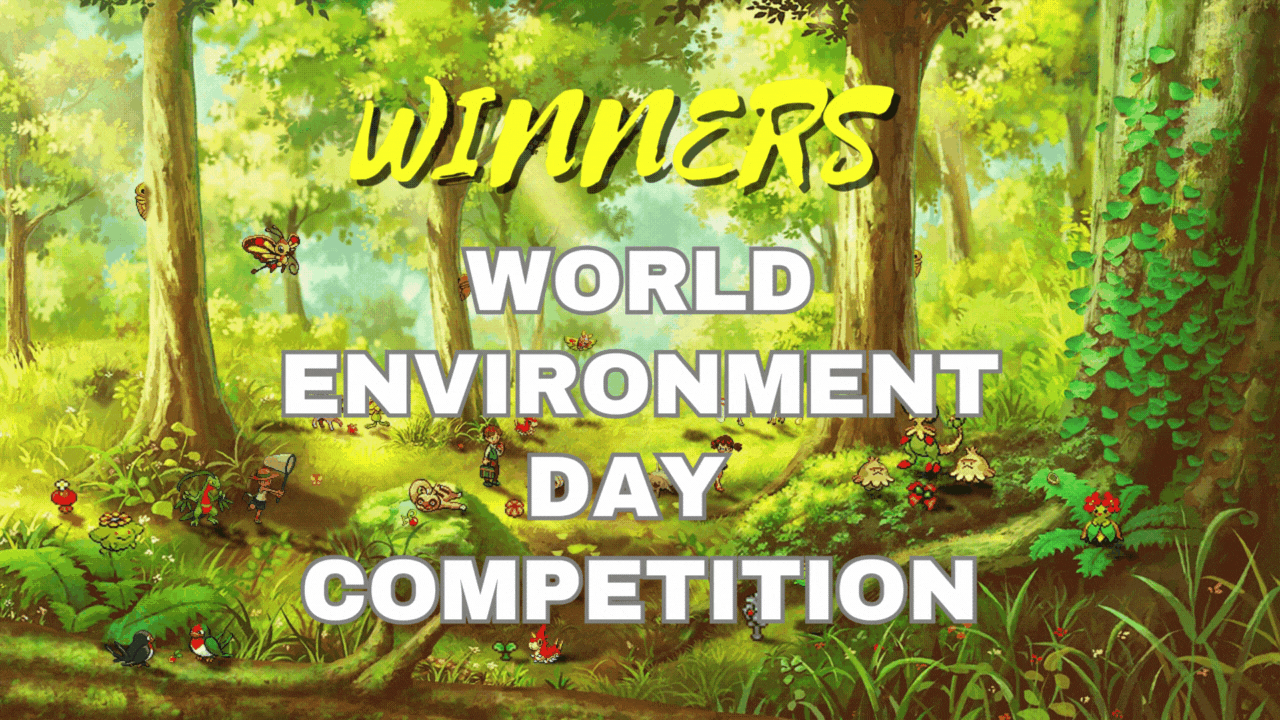 WINNERS, WORLD ENVIRONMENT DAY COMPETITION
The World Environment Day functions done under the leadership of Vivek Singh (Hardoi) and the hand-crafted images stand out both for colour and beauty. Kudos Vivek, for your care and concern for the Environment
Dear FINISH Society Family, We would like to share some important activities implement which was done by our team on the occasion of World Environment Day 2023 under the program of Khushali Swachhta Pariyojana of DCM Shriram Foundation project on SWM in Urban.
Activity 1:
The Celebration of Environment Day at Itauli MRF centre, Nagar Palika Parishad, Hardoi under the DCM Shriram Foundation project on SWM in Urban.
"The environment is where we all meet; where we all have a mutual interest; it is the one thing all of us share." — Lady Bird Johnson.
This quote beautifully encapsulates the importance and significance of the environment in our lives. The environment is not only an essential aspect of our existence but also a shared responsibility that we have towards our planet. To celebrate and highlight this crucial aspect of our lives, every year, June 5th is celebrated as World Environment Day. On this day, people from all around the world come together to spread awareness about environmental issues and emphasize the need for conservation. Our NPP officials and chairman also celebrates Environment Day, the theme of this year is under the campaign of #BeatPlasticPollution, 'Ecosystem Restoration', It is a reminder that people's action on plastic matters as the material is slowly seeping into our oceans, soil and forest and causing irreparable damage.
Happy World Environment Day 2023! 🌱
Let's celebrate this special day by joining hands and making a difference for our planet. 🌿
Together, we can create a greener and cleaner future for generations to come. 🌍🍀🍀🪴🪴🪴
Let's plant trees, reduce waste, conserve energy, and protect our precious ecosystems. 🌳
Remember, every small action counts!
The celebration emphasized the need for us to take care of the environment and the role we can play in doing so. It was a day that helped us understand that small but significant changes in our lifestyle can make a huge difference to the world we live in. Finally, the celebration was a reminder that the environment is not just an aspect of our lives but our shared responsibility, and each of us has a role to play in conserving and preserving it for the future generations.
Activity 2:
World Environment Day Celebration – A dream for a better planet!
We believe in celebrating! We believe in implementing!
And that's exactly we did this year too. With great zeal and enthusiasm, the children's of Ward 5 Manglipurwa amd Saiyapurwa celebrated World Environment Day 2023, The students did various activities like, making pots from useless plastic bottles, funnels,planting trees, reciting poems, making articles.
We are determined to fight for our planet and all those living on it. Together, we can be the generation that brings the change.
#Beatplastic, #SavingEnvironment, #WorkTogether, #WorldEnvironmentDay.
Activity 3: (Most Important)
"The health of our planet depends on the health of our environment.
As per data,8 million tons of plastic waste enters the oceans from rivers. A lot of this waste comes from the plastic waste we generate in our cities – from products we use only once but stay in the environment for over 500 years. As plastic waste cannot decompose, it just gets smaller and smaller and is swallowed by animals who mistake them for food.
To protect the environment on the occasion of "World Environment Day", supporting partner DCM Shriram Foundation and implementing partner FINISH Society transferred unusable waste like MLP and single use plastic waste to recycler to convert  into different useful products like table chair and swing.
The EO of NPP flagged off the loaded vehicle and sent it for recycling.
Our wards and city are precious & beautiful, home to a vibrant ecosystem. Let's protect them together this #WorldEnvironmentDay.
Please find the Drive folder for Photographs.
Devesh for his pristine photos of nature in all its glory and an equally sensitive write-up, it is innovative and refreshing. Congratulations Devesh.
Title: Better Environment, Brighter Tomorrow: Solutions for a Sustainable Future
"The greatest threat to our planet is the belief that someone else will save it." – Robert Swan
"In our pursuit of a sustainable future, it is imperative that we collaborate as a global society to address the environmental challenges we face. Urgent issues like climate change, pollution, deforestation, and resource depletion demand immediate attention, and our world is at a critical juncture. However, we have reason for hope, as we possess the power to bring about positive change and secure a brighter tomorrow for ourselves and future generations. One critical area that requires attention is sustainable agriculture as we FINISH society is working remarkably. We collaborating with different stakeholders helping the farmers to develop sustainable practices such as organic farming and reduced use of harmful pesticides and fertilizers can safeguard soil health, preserve biodiversity, and protect water resources. Sustainable agriculture practices not only benefit the environment but also improve rural livelihoods and foster a healthier ecosystem. Additionally, effective waste management is essential for a sustainable future. Promoting recycling, composting, and responsible consumption can reduce landfill waste, minimize pollution, and conserve resources. Embracing the concept of a circular economy, where resources are reused and repurposed, can create a more efficient and sustainable system. Since joining the FINISH Society five months ago, I have gained a deep understanding of the importance of working towards a sustainable environment. These understanding fuels my motivation to actively participate in this initiative. Environmentalist Wangari Maathai once said, 'The little grassroots people can change this world,' reminding us that each person, regardless of their background or means, holds the power to make a difference. A sustainable future will be shaped by the collective efforts of individuals, communities, and countries. In a world dominated by busy cities and urban landscapes, it is vital to pause and appreciate the beauty of nature that surrounds us. The photographs capture this beauty with its vibrant display of trees, lush greenery, gentle sunlight, and blossoming flowers. Just as each component contributes to a captivating landscape, each of us has a role to play in conserving and protecting our planet. Let this images inspire us to take action and make tangible steps towards sustainability. Even small adjustments to our daily routines can have a significant impact on the environment. Each ray of sunlight captured in the photos symbolizes the potential for a cleaner and more environmentally friendly future. By transitioning to renewable energy, adopting sustainable agricultural practices, improving waste management and fostering teamwork, we can create a better environment and pave the way for a brighter future. Let this photograph serve as a powerful call to action, a reminder of the urgent need to protect our planet's invaluable resources, as we embrace these solutions hand in hand with the symphony of nature."
Devesh Shukla
Justo Akbar for his graphic story on Ernakulam district Kerala–Its beauty and its curse. Both the story tell a poignant story which touches the heart and moves the soul. Congratulations Justo Akbar.
Ernakulam district Kerala its Beauty and The Curse Part 1 – The Beauty
Introduction to Ernakulam, is one of the 14 districts in the Indian state of Kerala, that takes its name from the eponymous city division in Kochi. It is situated in the central part of the state, spans an area of about 3,000 square kilometres (1,200 sq mi), and is home to over 9% of Kerala's population. Its headquarters are located at Kakkanad. The district includes Kochi, also known as the commercial capital of Kerala, which is famous for its ancient Churches, Hindu temples, synagogues and mosques. The district includes the largest metropolitan region of the state: Greater Cochin. Ernakulam is the district that yields the most revenue and the largest number of industries in the state.
The district is divided into three parts: lowland, midland, and the highland that consist of seaboard, plains, and hills and forests respectively. 20 percent of the total area are lowlands. The forests in the eastern part of the district are mostly remote, forming a part of the Anamalais. The highest peak is the Anamudi. The midland consists mainly of plain land and a group of islands that naturally drain water via backwaters and canals. The hilly or eastern portion is formed by a section of the Western Ghats. Muvattupuzha and Kothamangalam taluks, which were initially parts of the Kottayam district and constitute the highlands. Muvattupuzhayar and Periyar are the main rivers, of which the latter flows through Muvattupuzha, Aluva, Kunnathunad and Parur taluks. During the rainy season these rivers are full and heavy floods affect the low-lying areas on the banks, but in the summer season, they generally go dry and narrow. The Periyar is stretched over a length of 229 km (142 mi).
Bhrahmapuram landfill is an overfilled waste dumping site located in the Indian city of Kochi, Kerala. The Brahmapuram Solid Waste plant located here is owned and operated by the Kochi Corporation. The site is a major source of environmental pollution, fire hazards, and public health and safety issues. The Kochi city produces more than 600 tons of waste per day and nearly 100 ton of it is decomposed at Brahmapuram Solid Waste plant into organic manure.[5] The plant which was inaugurated in 2008 to manage solid waste was eventually converted into a landfill. As per March 2023, there is an estimated volume of 5.5 lakh tonnes of waste spread over 110 acres at the site. On 2 March 2023, a major fire burst out at Brahmapuram waste plant engulfing many parts of city in smoke containing toxic gas for many days.
2023 Brahmapuram waste plant fire
On 2 March 2023, a major fire broke out at the Brahmapuram waste plant. After the fire, major parts of Kochi city was engulfed in smoke. The fire broke out in a swampy area behind the Kinfra Industrial Park and the smoke spread for kilometers across the city. Following the outbreak, the Kerala State Pollution Control Board slapped a fine of Rs 1.80 crore on Kochi corporation. On 6 March, the toxic elements in the atmosphere of Kochi rapidly increased to a dangerous level following the outburst of fire. Many residents and opposition parties alleged that the fire was man made and a private agency engaged for mining the waste in the landfill played a major role in creating it.
Within a week after the outburst of fire, the smoke spread across to nearby districts of Alappuzha and Kottayam. The High Court of Kerala remarked that the people of Kochi were trapped in a gas chamber. The court also criticized the Kochi Corporation and the Pollution Control Board. The garbage in Kochi city piled up in the city after the garbage removal to Brahmapuram got stopped due to fire. After 12 days of continuous operations, the fire was extinguished completely on 13 March.
Lessons for Humanity
Brahmapuram Fire | 'Right to Clean Air Basic Human Right' : Kerala High Court Seeks Detailed Plan For Solid Waste Management Brahmapuram lessons: Act responsibly & cut plastic use The Brahmapuram plant, which spans over 110 acres, has an enormous pile of waste, covering roughly 70 acres and .. How plastics caused fire & affected air, water, soil, life in Brahmapuram. The Brahmapuram fire, which catapulted into the air, atmosphere, water, soil and ultimately life, is a classic example of a 'plastic chain reaction'. Finding the root causes of the accident could prevent fires forecast by scientists in thousands of dumpyards across the country.
High temperature + plastics = Dumpyard fire
IT IS TO BE NOTED THAT WHEN THE WORLD IS / WAS BEAUTIFUL DURING THE TIME OF CREATION, The Solemn Duty of Mankind to preserve Mother Nature with the best of our Ablity
Justo Abar Chaly
Designation – State Head
Another entry (Consolation prize worthy) which caught our attention was the simple but colourful photograph with an apt message conceived and executed by Kiran.