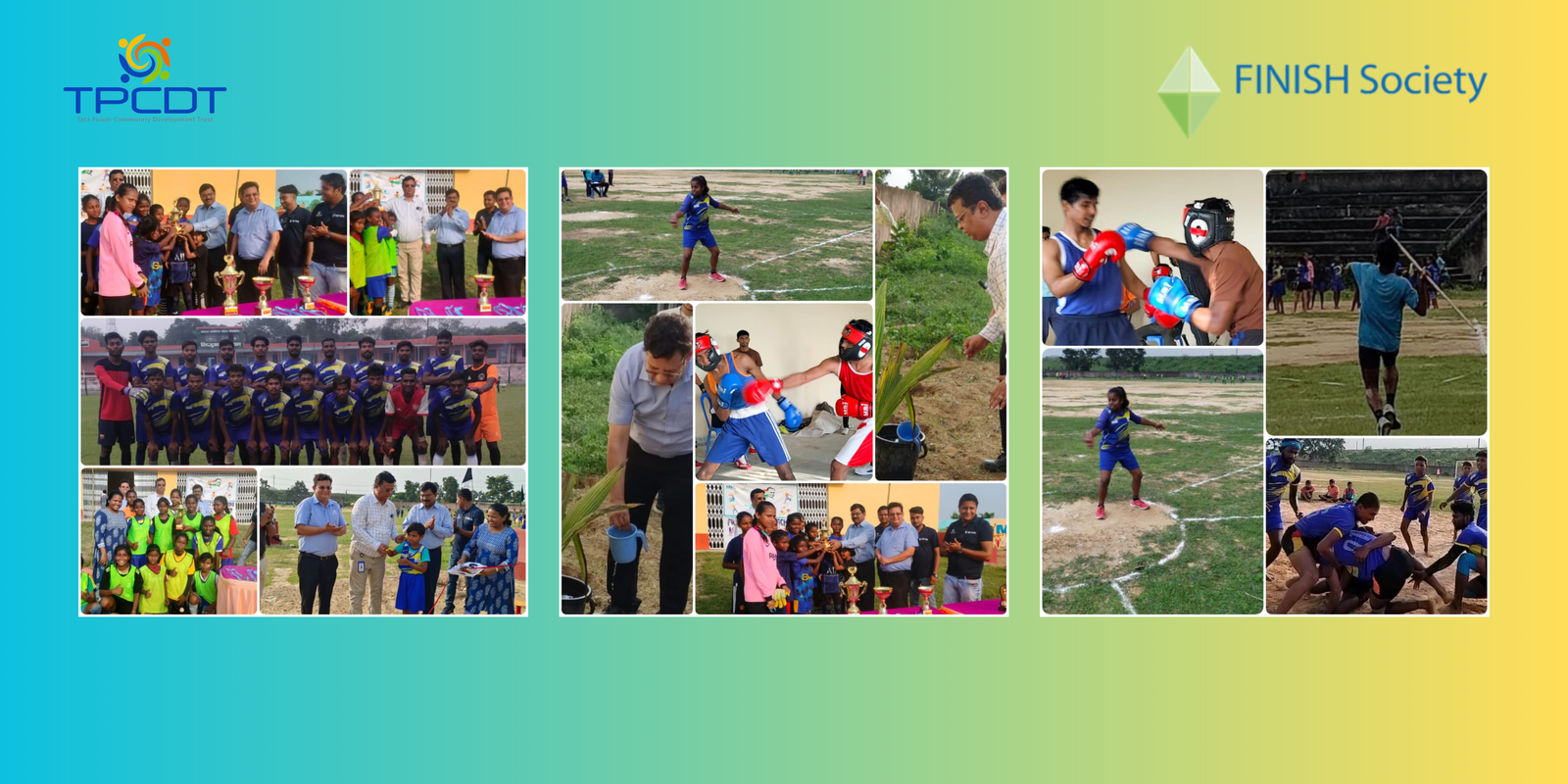 Breaking New Grounds In Nirsa To Harness Youth Power
Nirsa, is a small village in the Dhanbad district of Jharkhand. In today's digital era, like other villages in India, the children and youth of this village also have dreams of reaching the limits of the skies, and Tata Power Community Development Trust (TPCDT), the CSR arm of Maithon Power Ltd.(Tata Power), Nirsa, Dhanbad and FINISH Society are making a small effort to give wings to their dreams.
Under the Corporate Social Responsibility grant of Maithon Power Limited, FINISH Society has established playgrounds and sports training centers for children by selecting 7 grounds in Nirsa village and its surrounding areas. It is practically proven that Sports not only helps in the physical development of children but also plays an important role in developing restraint, discipline, management and leadership abilities in their lives.
Through these grounds, more than 1000 young boys and girls are being given training by national-level players in sports like boxing, football, volleyball, javelin throw, discus throw, shot put throw, running kabaddi etc.
It is the effort of TPCDT to increase the enthusiasm for sports among the youth, due to which the youth of Nirsa are not only making themselves and their village famous at the national level through these sports but are also making their mark at the international level sooner than later.
Team work, discipline and healthy competition are the three basic tenets of a sports program recently launched with much fanfare in Dhanbad. You could say it is a case of breaking new grounds in harnessing the energy of youth in a post-Covid 19 society. The cash flow in the area is better as compared to other areas in the block but this also results in involvement of the youth in turning towards social ills like alcoholism, drugs, gambling, betting, etc. The project was envisaged to channelize youngsters' energies towards sports disciplines and within a short period of around three months they have succeeded in turning the tide to a large extent
Earlier, Tata Power Community Development Trust (TPCDT) and FINISH Society joined hands to celebrate National Sports Day at Raj Ground in Poddardih village in Nirsa block of Dhanbad district of Jharkhand under a project on Financial and Social Inclusion. The number of medals won by their teams in the team and individual events was so heartening that the two partners realized they were on the right track This project is sponsored by Tata Power Community Development Trust (TPCDT) in their Maithan Power Limited, Nirsa project area and implemented by FINISH Society.
They organised this meet to motivate rural youth and children to take up various sports that are being promoted under the project. The project covers 21 villages in the area and provisions have been made for coaching by hiring 6 national and State level layers. These 6 professional coaches are providing training in football, kabaddi, volleyball and athletics in two grounds situated at the Maithan Power Ltd (Tata Power) campus which is immaculately maintained complete with a football ground, volleyball court, Kabaddi court and provisions for track and field events. The ground maintenance and sports equipment are also provided by the project. The project initially aims to cover 400 youth and children in the area. The coaches have to visit students' parents to convince their children to help them acquire cutting-edge skills under the guidance of the six coaches appointed by FINISH Society
Preparing Football Prodigies
After 14 years of active participation at the district level national football coach Bikaramaditya Singh is busy preparing football prodigies of the future. He says,"One of my students recently played at the national level (under 17) held at Silchar, Assam and four of my students were selected to be trained under a specialized coach from abroad, at Jamshedpur. Usually, we select around 20 children for a team but we keep working on the rest and train them further." He also said that many boys and some girls have also shown interest which is a good sign. He adds, "My children are mostly from poverty–stricken families but I advise them to consume eggs and bananas regularly and in case, that is difficult I advise them to consume rice starch as it is a very good source of energy." He further adds that they not only train them to be good sportspersons but teach them discipline and try and bring about behavior change too.
Volleyball Coach Ganesh Kumar Yadav
National Volleyball coach Ganesh who currently trains around 35 children, has recently played for the senior nationals at Jharkhand. He too says, "Most of the children come from backward areas where people are hardly aware of Volleyball and are mostly inclined towards football. Sometimes it is hard to motivate them but I hope to have at least 30 more children by September." He adds that he persuades them to see the game first, understand and then join the team.
He adds: "Recently there was a match and I took the responsibility of picking and dropping some children. I also took care of their refreshments and tried everything to build their interest." He added that out of the 16 teams that participated in the recent match, he took three teams and paid their entry fees as well and as expected they had a winner too.
He also adds that most children play barefoot as they don't have shoes. Often, they are not properly dressed due to lack of amenities but their enthusiasm is worth encouraging them for the future.
Girls' Football Coach Jayashree Gorai
Former national player and Jharkhand girls' team manager Jayashree currently takes care of 85 footballers. She shares that two of her boys' team will be participating in the district league soon. She shares that children from all backgrounds practice at a couple of grounds situated at MPL which is close by. These sports include football, athletics, volleyball and kabbadi. She says, "In most cases, I visit door to door for mobilization. I often give examples of two girls from Dhanbad, Asha and Sangeeta, who are among the seven girls selected from Jharkhand. They are presently representing the country at the international level. I say that all these girls belong to underprivileged families and if they can make it why can't you. Your guardians also motivate you unmindful of the fact that you are daughters." She adds that it was not easy for her to make youngsters to come forward but persistence pays, she adds with a smile.Two of her girls Reema Bawri and Anamika Kumari also shared their happiness at being members of the football team and being guided by her. Their enthusiasm can be clearly seen when they talk animatedly about their practice sessions.
Athletics Coach Avijit Patra

State level Athletics coach Avijit Patra says he is sure to get his proteges at least ten medals at the forthcoming district meet. He further adds, "I want to continue doing whatever I can to make these children achieve whatever I couldn't."
Kabaddi Coach Resham Tara
District and state-level Kabaddi player Resham currently trains around 40 children and shares that six children played at the district level last year.She shares that initially many children were shy to play because they were not comfortable wearing shorts as most of them belong to villages. She says, "I motivated them by saying that costume doesn't matter. Many sportspersons have reached heights while being from small towns and villages too."
Her children belong to the age group of 8-24 years of which 15 are girls and rest are boys. She shares that the best thing about her players is punctuality and that is what warms her heart. She says, "It's wonderful to be asked about my children and what we are doing."