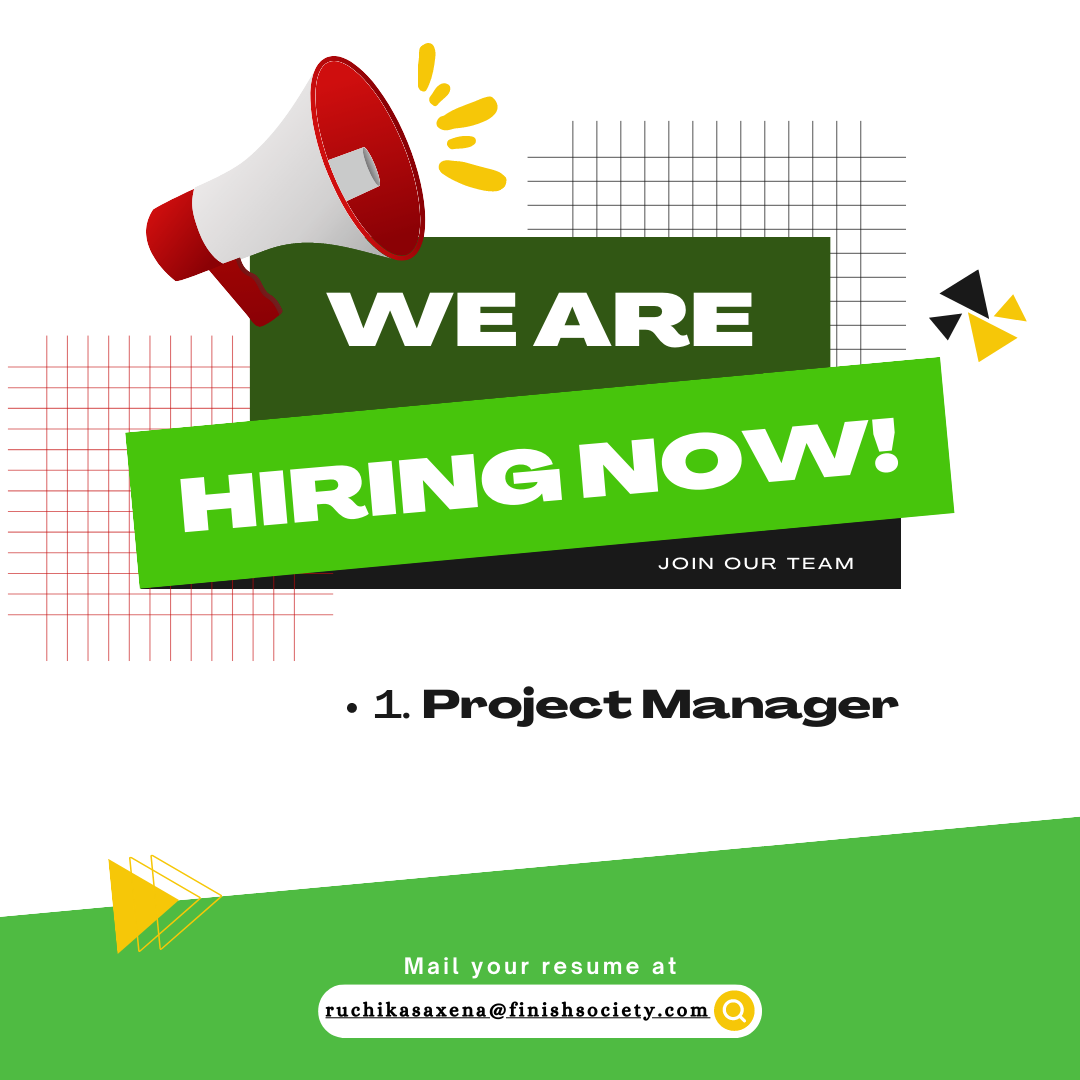 FINISH Society hiring Project Manager in Kapurthala, Punjab
FINISH/HR&ADMIN/Job notification/2023/010
Date: 11.07.2023
About the Organisation:- Financial Inclusion Improves Sanitation and Health (FINISH) Society is a multistate not-for- profit NGO registered in 2010 under the Societies Registration Act 1860. FINISH Society is working to promote sustainable and inclusive access of water, sanitation and hygiene services to impact health and environment.
Our commitment to safeguarding:- FINISH Society is committed to prevent any type of unwanted behaviour at work including sexual harassment, exploitation and abuse, or financial misconduct; and committed to promoting the welfare of all our beneficiaries. We expect that all staff, partners and volunteers share this commitment through our code of conduct. We ensure that we hire staffs who share our values and commitment and will provide appropriate training on the safeguarding policies of the organisation.
We are committed to ensuring diversity and gender equality within our organisation and encourage applicants from diverse backgrounds to apply.
Role:- Project Manager
Job Description: –
Manage the solid waste management program in Urban & Rural of Kapurthala efficiently.
Ensure reduction, recycling, reuse and minimum waste for dumping in the project area.
Conduct regular meetings at HH level, Community level and school level
Managing a team of supervisors for decentralized collection and maximum recycling
Plan mass awareness campaign, IEC materials, rallies, school engagement plan etc.
Liaison/ coordinate with the GP staff, contractors, community leaders, partners and other stakeholders.
Baseline and end-line format designing, data collection, and documentation and reporting.
Designing, managing, and monitoring project deliverables both software and hardware component for implementation.
Planning cost estimates and tracking budget utilization on regular basis.
Tracking, reviewing, and updating the project tracker MIS database.
Build and develop interactive specific IEC and BCC content for various stakeholders.
Tracking the performance of all the team members' quarterly basis.
Documentation of case studies/ success stories.
Progress reporting (Behaviour Change Communication, Infrastructure and Operations & Maintenance) to different stakeholders.
Any other task mutually agreed upon
Experience:- 5 to 8 years of relevant experience.
Qualification:- Graduation/Post Graduation MSW or equivalent Degree/Diploma.
Skills Required:- Leadership, Team building & handling, excellent Communication, adaptive attitude, use of computer applications along with necessary software, willingness to travel.
Location:- Kapurthala, Punjab
Remuneration:- competitive and will not be a constraint for the right candidate.
How to Apply
Interested candidates may mail their
detailed CV
by
31st July (Monday), 2023
to
ruchikasaxena@finishsociety.com
, mentioning
"Project Manager in Kapurthala, Punjab"
in the subject line.